Ding Darling Postage Stamp (Palau)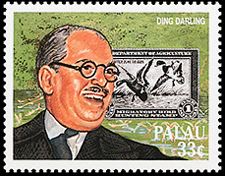 .
.
The island nation of Palau, a former U.S. trust territory in the Pacific Ocean, issued a set of stamps honoring Environmental Heroes of the 20th Century in 1999.
Among those included were J.N. "Ding" Darling, the designer of the first U.S. duck stamp and a founder of the National Wildlife Federation. This stamp features a stamp-on-stamp design, picturing Darling, with an image of that 1934 duck stamp.
You can learn more about Duck Stamps at the U.S. Fish and Wildlife Service's Duck Stamp Page.
Cartoonist Jay Norwood "Ding" Darling worked for The Des Moines Register for most of his career, and his hard-edged political drawings appeared in 130 daily U.S. newspapers. Darling was especially interested in wildlife issues. He won the Pulitzer Prize twice for cartooning.
One of Ding's pithy environmental sayings is this one:
"How rich will we be when we have converted all our forests, all our soil, all our water resources, and our minerals into cash?
In 1936, "Ding" Darling was a founder of the National Wildlife Federation, a large U.S.- based environmental group. The group counts 4 million members and supporters and 46 state affiliate organizations.
NWF was founded when President Franklin D. Roosevelt convened the first North American Wildlife Conference to stimulate public interest in the management and development of America's natural resources. Recognizing the link between the people's health, the environment, and our quality of life, conference participants set out to protect them all. They understood that it would take millions of informed, motivated people to do the job. So the General Wildlife Federation (later changed to National Wildlife Federation) was founded, with a central mission of educating and empowering people to make a difference.
The Federation publishes two outstanding magazines - National Wildlife and International Wildlife, as well as numerous other educational materials about wildlife and the environment.

---
Home | Publications | Links | Authors | Earth Songs | Environmental Holidays | Environmentalists on Stamps
---
This page is maintained by Harold Wood, Visalia, California.
E-mail: harold (at) planetpatriot.net