Joseph Wood Krutch Stamp (Palau)
---
Joseph Wood Krutch (1893-1970) was an outstanding amateur naturalist, conservationist, and writer. His books, Voice of the Desert and The Desert Year are classics about the Sonoran Desert of southern Arizona.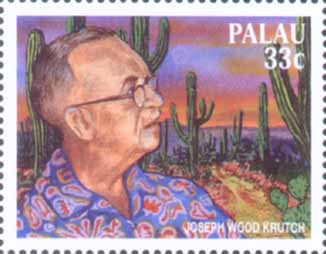 Joseph Wood Krutch anticipated, and completely rebutted the so-called "wise use" movement nearly fifty years ago when he wrote: "The wisest, the most enlightened, the most remotely long-seeing exploitation of resources is not enough, for the simple reason that the whole concept of exploitation is so false and so limited that in the end it will defeat itself, and the earth will have been plundered, no matter how scientifically and farseeingly the plundering has been done."
For more quotations, and to learn about Joseph Wood Krutch, visit our Joseph Wood Krutch Author page.
---
Home | Publications | Links | Authors | Earth Songs | Environmental Holidays | Environmentalists on Stamps
---
This page is maintained by Harold Wood.
E-mail: harold (at) planetpatriot.net
---
Last update: September 12, 1999