Ansel Adams First Day Covers
---
Ansel Adams (1902-1984) was a noted conservationist, devoting enormous hours to preserving wilderness through the Sierra Club and the Wilderness Society. Many people know him only for his photography, but he was a tireless worker in defense of wilderness areas for many decades. He met with several U.S. Presidents to plead for wilderness preservation, and many of his photographs in book collections are a call for preservation of unspoiled Nature.
These First Day Covers are by " Cuv Evanson"
---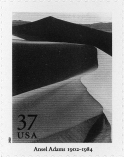 37¢ Masters of American Photography

Self-adhesive pane of 20 designs, including Ansel Adams.
2002
Washington, DC 20066.

Text on reverse of stamp reads:
Renowned art photographer and environmental leader Ansel Adams (1902-1984) was praised for his sublime interpretations of the dramatic beauty found in the western landscape. Rendered with a naturalist's precision and a pictorialist's virtuosity, Sand Dunes, Sunrise 1948, reveals the sharpness of detail and rich tonal range - from deepest black to purest white - that are hallmarks of his work.
The Ansel Adams Trust
Mill Valley, California
---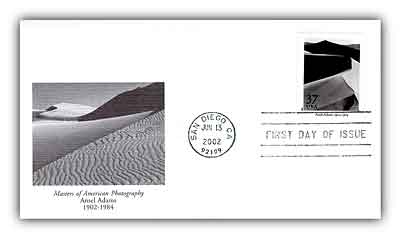 First Day Cover by Fleetwood

Return to Environmentalists on Stamps
---
Home | Publications | Links | Authors | Earth Songs | Environmental Holidays | Environmentalists on Stamps
---
This page is maintained by Harold Wood.
E-mail: harold (at) planetpatriot.net