---
Joseph Wood Krutch (1893-1970)
---
---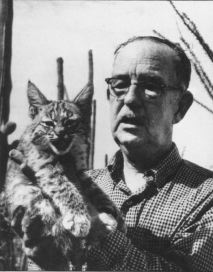 Joseph Wood Krutch was one of America's most distinguished literary naturalists. Irwin Edman once remarked, "Krutch is a sound naturalist in the philosophical rather than the merely botanical and biological sense." He has been equally well known as a teacher, drama critic, biographer, editor, journalist, and public speaker. His 1954 book, The Measure of Man received the National Book Award for non-fiction. Originally pessimistic about the human condition, evidenced by the 1929 publication of The Modern Temper, Krutch eventually regained optimism by discovering Nature and accepting a Pantheist faith, what he called "faith in wildness."
It is a shame Krutch is not more widely read today, for his insightful essays about man and nature remain a delight. Writing in the late 50's and early 60's, he pre-saged the modern "ecology movement" by many years. He was not appreciated, even rejected in his time. Tragically, his fear of "progress" was justified: the home he built in the Sonoran desert so he could enjoy its beauty "10 miles from the city of Tucson" is now a totally developed suburban landscape and business district; a bank was built on his homesite.
Dr. Krutch's last name rhymes with "pooch," not "crutch." I know this first-hand because of a rare television documentary he appeared in back in the 60s.
Joseph Wood Krutch was born in Knoxville, Tennessee. He took his B.A. degree at the University of Tennessee, and his M.A. and Ph.D. degrees from Columbia University. He began teaching at Columbia University in 1917. From 1924 until 1950 Dr. Krutch was the drama critic of the Nation. In 1943 he became the Brander Matthews Professor of Dramatic Literature at Columbia. On doctor's orders, in 1950 he had to leave New York and New England for the dry desert air of the Southwest. In the beauty of the Sonoran Desert, he found something worth living for.
In addition to his masterpieces of natural history (described below), notably The Voice of the Desert and The Desert Year, (which won the John Burroughs Medal in 1954), Krutch wrote literary biographies of Henry David Thoreau, Samuel Johnson, and Edgar Allen Poe, and on other literary topics, some twenty-one books in all. His book Voice of the Desert was the topic for a television special and film., followed by another on the Grand Canuyon.
Dr. Krutch lived his retirement years in Tucson, Arizona, writing evocative books about natural history and conservation, and was a co-founder of the Arizona-Sonora Desert Museum.
---
Note: Many of Krutch's books are now available for free download or borrowing in multiple e-book platforms. See openlibrary.org and archive.org.
The Best Nature Writing of Joseph Wood Krutch (New York: William Morrow & Co., 1969)

"Science is knowledge about natural phenomena while the proper subject of nature writing is an account of the writer's experience with the natural world." - from the Introduction by Joseph Wood Krutch.

This collection covers the span of Krutch's nature writing career, including sections on "New England and the Desert," "Other Lives," "Shapes of Earth," "Nature and Human Nature," and "The Meaning of Conservation."

These literate essays, all written in the 50's and 60's, are as timely today as when they were written. The final essay, 'Conservation is Not Enough" anticipates the so-called "wise-use" movement by thirty or forty years and offers a complete rebuttal. Written in 1951, originally published in the American Scholar, this essay should be read in every high school across the land today. We're trying to obtain permission to reprint it here, but until we are able to post it, look for it in this book or in The Voice of the Desert.

The Great Chain of Life (Boston: Houghton Mifflin, 1956, 1977)

From the Preface by Edward Abbey: "Krutch begins with protozoa and ends with the human - and the sense of a cardinal outside his window, finding in the latter the suggestion that perhaps joy, not the struggle for survival alone, is the essence of life, both its origin and its quest... In his unwavering insistence, to the very end of his life, on the primacy of freedom, purpose, will, play and joy, and in the kinship of the human with all forms of life, he defended those values which form, I believe, the meaning of mankind's history as well as that aspiration toward civilization which is history's only élan vital."

Marston Bates in the New York Times: "A wise and well-informed humanist has taken the time to look lovingly and wonderingly at the living world around him, and to study the ways in which scientists have tried to analyze the world... THE BEST INTRODUCTION TO NATURAL HISTORY THAT HAS YET BEEN WRITTEN."

William Hogan in the San Francisco Chronicle: "He believes that not everything about the beast is beastly, that to be an animal is to be capable of ingenuity and of joy, of achieving beauty and of demonstrating affection. In this book he is delightfully convincing."

The Desert Year (New York: William Sloane & Associates, 1951)

Awarded the John Burroughs Medal in 1954.

From the book cover: As Paul Horgan commented in The New York Times, "with Mr. Krutch we make a journey into two places. One is the desert itself, the other is his civilized and charming mind. Together they make a country where many readers will be very content." For this book is both a report on the pattern of the desert world of the American Southwest and its seasons and an adventure into the inner world of a wise and quizzical man.

"Even though they have never been there, most laymen will delight in Mr. Krutch's descriptions of the desert and in his knowledge and curiosity concerning natural history. Readers interested in Thoreau and naturalist philosophy will find many insights and the best sort of simplicity in this book."

The Twelve Seasons: A Perpetual Calendar for the Seasons (New York: William Sloane Associates, 1949)

Edwin Way Teale: "The Twelve Seasons is sound natural history, but it is infinitely more. It is the philosophy of a; sensitive, thoughtful, modern man viewing life against the background of nature."

In this enduring book, Joseph Wood Krutch has written a series of delightful and wise reflections - one for each month of the year - stemming from thoughts on nature. There is great variety here - from the microbe to the moon, from the raindrop to the oak - but the author's pervading consideration is the relationship of man to his universe.

The Saturday Review: "The Twelve Seasons is a distinguished work of literary expression."

The Chicago Tribune: "It belongs on the top shelf of nature writing."

The Voice of the Desert (New York: William Sloane Associates, 1954)
Available for free download in multiple formats from OpenLibrary.org.

W.D. Patterson, The Saturday Review: "Thoreau had his New England pond; Joseph Wood Krutch, his Arizona desert. And in both cases the reader should be a happier, wiser and better person because of the books these two philosophers of nature wrote out of their intimate observation of their immediate environment. The Voice of the Desert is a memorable book not only about the violent extremes of life in the desert, but about man's own relation with nature and the universe."

This book explores the rich, intriguing, unexpected variety of life in the desert of America's Southwest. It is both for lovers of natural history and for those who enjoy the ruminations of a wise mind. Thus the result of this adventure with the natural wonders of the desert is a joyful, wise and witty credo by a man who knows that the proper study of mankind extends to all of nature.

The delightful book - scholarly and informed though it is - is first of all a product of the exuberant enthusiasm that only a convert can bring to his subject. Joseph Wood Krutch came to the desert in his middle years - a man of letters who had spent his entire adult life in the cities and countryside of the Northeast. He found that the desert was exactly right for him - that he was healthier and happier in its bright, dry air than ever before. So he settled in Tucson and began inquiring into the habits of other creatures who were, like himself, at home in the desert.

From the particular to the general, from the sublime to the ridiculous, Krutch investigates the desert that surrounds him and its inhabitants. He has extraordinary faculty for making even such things as cacti and toadlets endearing - though he is never a sentimentalist.

Here, then, is his philosophy of the desert, woven from myriad facts and observations. He is an individualist who does not go along with certain theories current today about regimentation, and this combination of fresh, unjaundiced perception transmitted through his fine and lucid prose, make The Voice of the Desert and articulate delight.

Whether is he talking of creatures - the roadrunner, the Dipo, the kangaroo rat, the tarantula - or of plants, he does so as an interested companion who must also adapt in order to exist in what many people consider difficult and unpleasant surroundings.

The Forgotten Peninsula (New York: William Morrow & Co., 1961)

What has man to do with what survives and what changes and what perishes in this world? Joseph Wood Krutch, a former drama critic for the Nation, and a retired professor of drama at Columbia University, poses these questions (and implies answers) as he gives us a lucid picture of Baja California, the last frontier of the Spanish American Southwest.

Baja California is related in name to the state of California but belongs to Mexico. A long dry peninsula largely unknown and undeveloped, Baja is one of the few places the biological or the geological scientists can still make new discoveries. There are no roads, water is found in occasional holes, and the sun is always blazing. But there is life, and Mr. Krutch puts it in perfect focus. "Baja California is no place for the tourist but for the amateur like me," the author notes, "It is a land of delight, one where it is possible to escape for a time into a world still what nature rather than human forces have made it...."
---
Gerald Green - one of Krutch's admireing students at Columbia University, and by 1961 a producer at NBC, proposed a series of programs featuring Joseph Wood Krutch. Krutch's reading of a script composed largely of passages from his writing about the desert would be accompanied by film showing Krutch admiring the beauties of the region. The glowing reviews of the first program led to a second, and a third one filmed in Baja California.
These NBC television productions were available for some time after release from Encyclopædia Britannica Films as 16 mm rental films. Now fouund only in library film archives, we hope they can be unearthed, restored, digitized and re-released!
A 1963 program was televised on August 22, 1963, featuring Krutch and his beloved Sonoran desert. NBC's Encore" repeated "Voice of the Desert" on August 1, 1965.
The following is an article about the TV program "Voice of the Desert" reprinted from Tucson Daily Citizen August 17, 1963, page 27:
"Voice of the Desert"

By John Riddick
Tucsonians will be able to see through television Thursday night the land about them as felt and perceived by one of their most famous fellow citizens, Dr. Joseph Wood Krutch.
The National Broadcasting Co. will project an hour- long color program nationally giving Krutch's vision in a show titled "The Voice of the Desert." It will appear here over KVOA at 8 p.m. The title comes from one of Krutch's very popular books. And the words for the show will be read from it as well as another Krutch book "The Desert Year."
An NBC crew spent a good many days here in the spring of 1962 making the film which stars together Krutch and his beloved desert. Krutch will be seen walking about some of the most beautiful areas near Tucson, pausing here and there to pick up and handle affectionately some desert creature and adding with his tremendous skill words that describe his understanding of the natural world. During the shooting, the camera was permitted to roam for three minutes over one of the great saguaro forests in the Tucson Mountains for what the producer hoped would become a symphony of color.
After a distinguished career in New York City as a drama critic and an English professor at Columbia University, Krutch fell in love with the desert 15 years ago and since then has made his home in Tucson. Many thousands of people around the world have learned about Tucson and the Arizona countryside through Krutch's writings.
He believes that the desert is creative of a contemplative mood as well as a feeling of beauty. And his writings often are of a philosophical nature. As background for the show, -Ezra Laderman has written some original music.
The show is a labor of love for producer Gerald Green, a former student of Krutch's and himself the author of six books including "The Last Angry Man.""1 believe this man has expressed better than any other nature writer the joy of observing nature and being a part of it," Green said when he was here to shoot the film.
The camera crew spent a good deal of time at the Arizona Sonora Desert Museum as well as in the surrounding mountains. On one occasion, Krutch brings his attention to a scorpion who in addition to inspiring fear should get our respect, he says, "for going about his business, such as it is, far longer than any dinosaur went about dinosaur business."
As a prophet for the power of nature, Krutch has an urgent feeling that man is losing his ties with his natural background with disastrous results. "We are losing the love of life," he said once. "Nature is the context of life and we are cutting ourselves off from our roots. We are losing joy. We just have 'fun' which is not the same thing."
The "Voice of the Desert" has attempted in a new electronic medium to transmit the joys felt by one man in the eternal world of nature.
Image: JOSEPH WOOD KRUTCH At home with an owl
SATURDAY, AUGUST 17, 1963 DAILY CITIZEN PAGE 27
The following is an exerpt from the "Entertainment" section of the Reno Gazzette-Journal for July 12, 1963:
ENTERTAINMENT, JULY 13 1963 - Reno Evening Gazette and Nevada State Journal "Voice of the Desert Special Scheduled" Gerald Green is producer, and Joseph Zigman director of the program. After a long career as professor of dramatic literature at Columbia University, drama critic, philosopher, essayist and biographer, Professor Krutch, now 69, found a new life in the desert about 15 years ago. He settled near Tucson for reasons of health and to fulfill his lifelong interest in the desert. The Sonoran Desert of Arizona as viewed by Joseph Wood Krutch, one of America's great naturalists and philosophers, will be the subject of a full-hour NBC News special program in color Thursday, Aug. 22 on NBC-TV. The filmed program, "The Voice of the Desert," visualizes selections from Professor Krutch's writings as he reads them. An original musical score by Ezra Laderman accompanies the narration. The program includes Professor Krutch's tribute to the outlandish boogum tree and his praise for the giant saguaro cactus, the symbol of the Sonoran Desert. Other sequences show the mysterious, abandoned cliff dwellings of ancient Indians, the incredible tapestry of Spring wild flowers, and Krutch gingerly examining a scorpion. the desert's least popular animal. By fortunate accident," explains Krutch, "I found the ideal spot: a home not 10 miles from a medium-size town, but plumb in the middle of hundreds of acres of desert, untouched except for an occasional artificial oasis where someone put a home. To the north, only a few miles away, there rises a bold range of mountains, bare except for the scattered green dots of Saguaro cactus.
"Grand Canyon: A Journey with Joseph Wood Krutch"
In 1965, Gerald Green produced another documentary featuring readings and narration by Joseph Wood Krutch. Cameramen were Scott Berner and Carl Yost. The program won critical praise an the Edison Award for Excellence in Television.
As reported in Battle Creek Enquirer » 1965 » June » 2 Jun 1965, Wed » Main Edition » Page 5:
The NBC-TV documentary, "Grand Canyon," narrated by naturalist - author Joseph Wood Krutch, combined a journey into beauty and splendor with a powerful statement against rapacious "improvers." The dignified and maturely restrained hour, with its underscoring of veneration for nature and its forms of life, was timely and immediately revelant because of the Grand Canyon's recent confrontation with improvers and because of President Johnson's beautification drive. In word and picture, Tuesday night's program contrasted natural beauty and "improvements" with devastating effect.
Televiewers may recall that in 1963, Krutch and the same producer, Gerald Green, combined their efforts for another outstanding documentary, "Voice of the Desert," about the Sonora Desert of Arizona. In both shows, Krutch read passages from his own writings.
Beautification, of course, is not a matter of merely tidying up the front lawn. Such issues as conservation, urban decay, water pollution and building of structures are at base matters that involve political and economic above all, economic conflicts, and "Grand Canyon" scored heavily with its attitude toward fast - buck operators, real estate hucksters and dams of questionable need. Krutch brought up the typical opposing argument that "human needs come first." What needs?, he asked, driving home his point about those who seem incapable of experiencing awe for anything other than power, amusement of a banal sort, and shekels. What, the hour asked, could be more necessary than the preservation of the nation's natural resources as a constant renewing source of human inspiration?
"I wish to know an entire heaven and an entire earth," he said.
'American Profile: The Forgotten Peninsula"
Based on Krutch's book "The Forgotten Peninsula" in this 1967 television special, Krutch presents Baja California, that 800- mile-Iong finger of desert and mountain, as one of the last primitive, wild, unsettled regions on earth. "The tiny island of Granite," says Krutch, "may be called 'Seal Island." I called them seals, as most people do, though more properly these sinuous animals are sea lions, the kind you see in circuses. Because they have seen so little of man on these islands, and not knowing any better, they appeared almost to welcome us. Once we overcame our mutual, initial embarrassment we got along very well. The parents, just off-shore, kept a wary eye on us, but did not seem too much disturbed. It is a surprising fact that baby seals have to be taught to swim. This, of course, is evidence that seals were originally land animals and represent what biologists call 'a secondary return to the water.' " Throughout the film, Krutch describes some of the natural phenomena, wildlife, odd flora and fauna and unusual sights found on the peninsula. Publicity for the program states: "The program includes a detailed account of the islands of the Sea of Cortez; Espiritu Santo, with beaches more luxuriant than the Riviera, yet empty; San Lorenzo, home to 5,000 pelicans; Tortugas, a dry volcano into which Krutch flies in a helicopter; and Rasa, the famed bird island, covered with thousands of terns and gulls. In addition viewers will see various cities and communities, each illustrating some point Krutch wants to make: La Paz, the capital, midway between primitive isolation and the modern world; or San Ignacio, the charming mission town in the interior where the Spaniards built a most imposing church during the 18th century. "The Forgotten Peninsula" will be the fourth of eight NBC News "American Profile" color specials to be presented on NBC TV during the 1967-68 season."
The Arizona Republic on November 5, 1967 (pg. 183), reported on the program:
" Baja California View By Joseph Wood Krutch." - "Joseph Wood Krutch's view of an unspoiled natural wonder, Mexico's Baja California, will be presented in an NBC News special, "American Profile: The Forgotten Peninsula," on the NBC Television Network Friday, Dec. 8. The noted author and naturalist acts as on-camera narrator-guide in the program, produced and directed by GeraId Green. The script is based on Krutch's book "The Forgotten Peninsula." The program is a companion piece to two earlier NBC News programs filmed in the Southwest, "Grand Canyon" and "Voice of the Desert," which also were inspired by books by Krutch. Krutch presents Baja California, that 800-mile long finger of desert and mountain, as one of the last primitive, wild, unsettled regions on earth Interwoven in his descriptions of natural phenomena, wildlife, odd flora and fauna, unusual sights, is a keen philosopher's view of the world and what man has done to it. Central to everything Krutch u rites is his faith as a conservationist. Prominent in the program is a detailed account of the islands of the Sea of Cortez; Espiritu Santo, with beaches more luxuriant than the Riviera, yet empty; San Lorenzo, home to 5,000 pelicans; Tortugas, a dry volcano into which Krutch flies in a helicopter; Granita, where he muses over the hospitality of seals and plays with wild seal pups; Rasa, the famed bird island, covered with thousands of terns and gulls, an island which Krutch himself was instrumental in having declared a sanctuary in 1963. Viewers also will see various cities and communities, each illustrating some point Krutch wants to make."
---
Green, Gerald, An American Prophet (also later titled by Doubleday as Prophet for the Wild), (Franklin Center, Pennsylvania, The Franklin Library (The First Edition Society), 1977. This is a novel inspired by Joseph Wood Krutch's life, who the author knew intimately. Green studied under Krutch in 1939 while he was an undergraduate at Columbia College. The experience, he says, changed his life. When he later became a TV producer for the National Broadcasting Company, Green asked Krutch to narrate a series of TV programs on the American wilderness, especially the Arizona desert. His friendship with Krutch provided him the opportunity of getting a glimpse into the private life of the great naturalist - an opportunity that Krutch seldom allowed. Reminiscing about Joseph Wood Krutch, Green says, "he was always captivating and original, whether conversing on modern drama or the ingenuity of a cactus wren.'' The character Daniel Dean Vormund in the novel is Krutch personified.

KIRKUS REVIEW: "The last days and acts of another Last Angry Man--an 80-year-old naturalist fighting the housing developers, industrialists, and ranchers who would destroy the wilds of the Arizona desert. Dan Vormund (a figure based on the literary scholar and naturalist Joseph Wood Krutch) was once a celebrated Columbia professor, shy, despondent, and ailing, but he's been blooming with new life ever since he found paradise--20 years ago--in the desert solitudes where nurse-wife Clara still nurtures him like a rare plant. So now Vormund is a prolific nature-writer and contributor to the broken-down Desert Research lnstitute's skimpy journal, The Road Runner Gazette. Out of the blue, an eccentric subscriber dies and leaves the institute $15 million because he loved Vormund's marvelous articles. The plot--can the quixotic will be broken?--is fairly loose and, with today's desert still threatened, the resolution's inconclusive. High points are the discovery of rare plants, releasing a mountain lion caught in a steel trap, sighting a miraculously-colored, never-before-spotted bird, and Vormund's defense of the land in court. For his vibrance, his botanical genius, and his adoration of ""the glow of eternity"" in his desert, you'll like Vorround-if you stick around through what is more an affecting profile than forceful drama. Pub Date: April 1st, 1977. Publisher: Doubleday."


Margolis, John D. Joseph Wood Krutch: A Writer's Life (Knoxville: University of Tennessee Press, 1980). Read Book Jacket of Joseph Wood Krutch: A Writer's Life by John D. Margolis.

Pavitch, Paul N., Joseph Wood Krutch (Boise State University Western Writers Series, No. 89, 1989. ISBN: 0884300889 ISBN-13: 9780884300885.


McClintock, James I. Nature's Kindred Spirits: Aldo Leopold, Joseph Wood Krutch, Edward Abbey, Annie Dillard, and Gary Snyder (Madison: University of Wisconsin Press, 1994)

---
---
"It is not a sentimental, but a grimly literal fact that unless we share this terrestrial globe with creatures other than ourselves, we shall not be able to live on it for long."

* * *

"We need some contact with the things we sprang from. We need nature at least as a part of the context of our lives. Without cities we cannot be civilized. Without nature, without wilderness even, we are compelled to renounce an important part of our heritage."

* * *

"We have invented exercise, recreation, pleasure, amusement,and the rest. But recreation, pleasure, amusement, fun and all the rest are poor substitutes for joy; and joy, I am convinced, has its roots in something from which civilization tends to cut us off. Some awareness of the world outside of man must exist if one is to experience the happiness and solace which some of us find in an awareness of nature and in our love for her manifestations."

* * *

"If we do not permit the earth to produce beauty and joy, it will in the end not produce food either."

* * *

"Civilized man has been more ruthlessly wasteful and grasping in his attitude toward the natural world than has served even his most material best interests. Possibly - as some hope - a mere enlightened selfishness will save it in time. Even if we should learn just in the nick of time not to destroy what is necessary for our own preservation, the mere determination to survive is not sufficient to save very much of the variety and beauty of the natural world. They can e preserved only if man feels the necessity of sharing the earth with at least some of his fellow creatures to be a privilege rather than an irritation. And he is not likely to feel that without something more than intellectual curiosity - that something more you may call love, fellow-feeling, or reverence for life. Without reverence or love the increasing awareness of what the science of ecology teaches us can come to be no more than a shrewder exploitation of what it would be better to admire, to enjoy, and to share in."

* * *

"The wisest, the most enlightened, the most remotely long-seeing exploitation of resources is not enough, for the simple reason that the whole concept of exploitation is so false and so limited that in the end it will defeat itself, and the earth will have been plundered, no matter how scientifically and farseeingly the plundering has been done."

* * *

"What is commonly called conservation will not work in the long run because it is not really conservation at all but rather, disguised by its elaborate scheming, only a more knowledgeable variation of the old idea of a world for man's use only. That idea is unrealizable. But how can man be persuaded to cherish any other ideal unless he can learn to take some interest and some delight in the beauty and variety of the world for its own sake, unless he can see a value in a flower blooming or an animal at play, unless he can see some use in things not useful?"

* * *

"If nature herself has exhibited a tendency, if she seems to 'want' anything,it is not merely to survive. She has tended to realize more and more completely the potentialities of protoplasm, and these include much that has no demonstrable 'survival value.' Evolution itself has spread before us the story of a striving toward 'the higher,' not merely toward that which enables an organism to survive."

* * *

"Man needs a context for his life larger than himself; he needs it so desperately that all modern despairs go back to the fact that he has rejected the only context which the loss of his traditional gods has left accessible. If there is any "somehow good," it must reside in nature herself."

* * *

"Beauty and joy are natural things. They are older than man, and they have their source in the natural part of him. Art becomes sterile and the joy of life withers when they become unnatural. If modern urban life is becoming more comfortable, more orderly, more sanitary, and more socially conscious than it ever was before - but if at the same time it is also becoming less beautiful (as it seems to me) and less joyous (as it seems to nearly everyone) - then the deepest reason for that may be its increasing forgetfulness of nature. She is often not the good things which the city is, but she is almost always, nevertheless, somehow beautiful and somehow joyous.

Joy is the one thing of which indisputably the healthy animal, and even the healthy plant, gives an example. And we need them to remind us that beauty and joy can come of their own accord when we let them. The geranium on the tenement window and the orchid in the florist's shop, the poodle on the leash and the goldfish in the bowl, are better than nothing. In the consciousness of the city-dweller, they ought to play a part no less essential than that of the sleek chrome chair and the reproductions of Braque and Miro."

* * *

"I happen to be one of those, and we are not a few, to whom the acute awareness of a natural phenomenon, especially of a phenomenon of the living world, is the thing most likely to open the door to that joy we cannot analyze. I have experienced it sometimes when a rabbit appeared suddenly from a bush to dash away to the safety which he values so much, or when, at night, a rustle in the leaves reminds me how many busy lives surround my own. It has also become almost as vividly when I suddenly saw a flower opening or a stem pushing out of the ground.

But what is the content of the experience? What is it that at such moments I seem to realize? Of what is my happiness compounded?

First of all, perhaps, there is the vivid assurance that these things, that the universe itself, really do exist, that life is not a dream; second, that the reality is pervasive and it seems, unconquerable. The future of mankind is dubious. Perhaps the future of the whole earth is only somewhat less dubious. But one knows that all does not depend upon man, that possibly, even, it does not depend upon this earth. Should man disappear, rabbits may well still run and flowers may still open. If this globe itself should perish, then it seems not unreasonable to supposes that what inspires the stem and the flower may exist somewhere else. And I, it seems, am at least part of all this.

God looked upon the world and found that it was good. How great is the happiness of being able, even for a moment, to agree with Him."
---
Home | Publications | Links | Authors | Earth Songs | Environmentalists on Stamps | Environmental Holidays
---
This page is maintained by Harold Wood.
E-mail: harold (at) planetpatriot.net
---